Professional Pet Grooming Program
Get hands-on training and earn a professional pet grooming certificate using stress-free grooming techniques from the only officially permitted grooming school in the City of Oakland California, in the Bay Area
One-on-one training, 3 month course – 3 days a week, 11:00- 3:00
(plus homework for reduced commute time)
Minimum of 3 months/144 hours of class time
$3900.00 fee includes instruction, tools, books and tests, no refunds
Classes include:
Theory and practice
Animal behavior and body language
Stress-free grooming techniques for all dogs and cats
Applications
Interviews available in person or by phone. Must be 18 years or older and have a valid government issued ID (drivers license or passport), and provide address and contact information. If under 20 years old, a parent must be present at the interview, and provide consent.
Please call 510-444-1159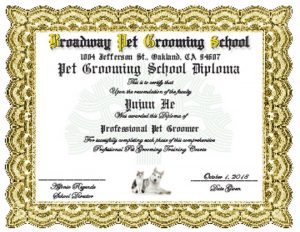 Graduates